---
How to Do Keyword Research for SEO – The Right Way
March 30, 2021
No Comments
1024
As a big role for Search Engine Optimization (SEO), a good keyword research is key for SEO to move you to the top of Google's search engine results pages (SERPs). The role of a simple word, in this case, is crucial. Choose the right words, the simpler the better. Get into the mind of the searcher and find the words you want to be found for.
A good Website is not just about being attractive to the visitor but it must also be attractive to search engines. A user, when searching for something on the web, he must come across he most relevant results for what he's searching for. This can be done when your website is visually appealing and has relevant keywords with rich content. What can archive from these two elements?
Research shows that when people search for something in search engines, only less than 10 searchers, past the first page and more than half, never scroll and past the first three results. So what can you do to appear in the first 10 searches? Understand Keywords.
What is a Keyword
Keywords are words or phrases that people write on the web to find something that they are looking for. Even a phrase that consists of more than one word, is still considered a keyword.
For example, if you are looking for Hosting, you might type something like "The best Web Hosting Providers")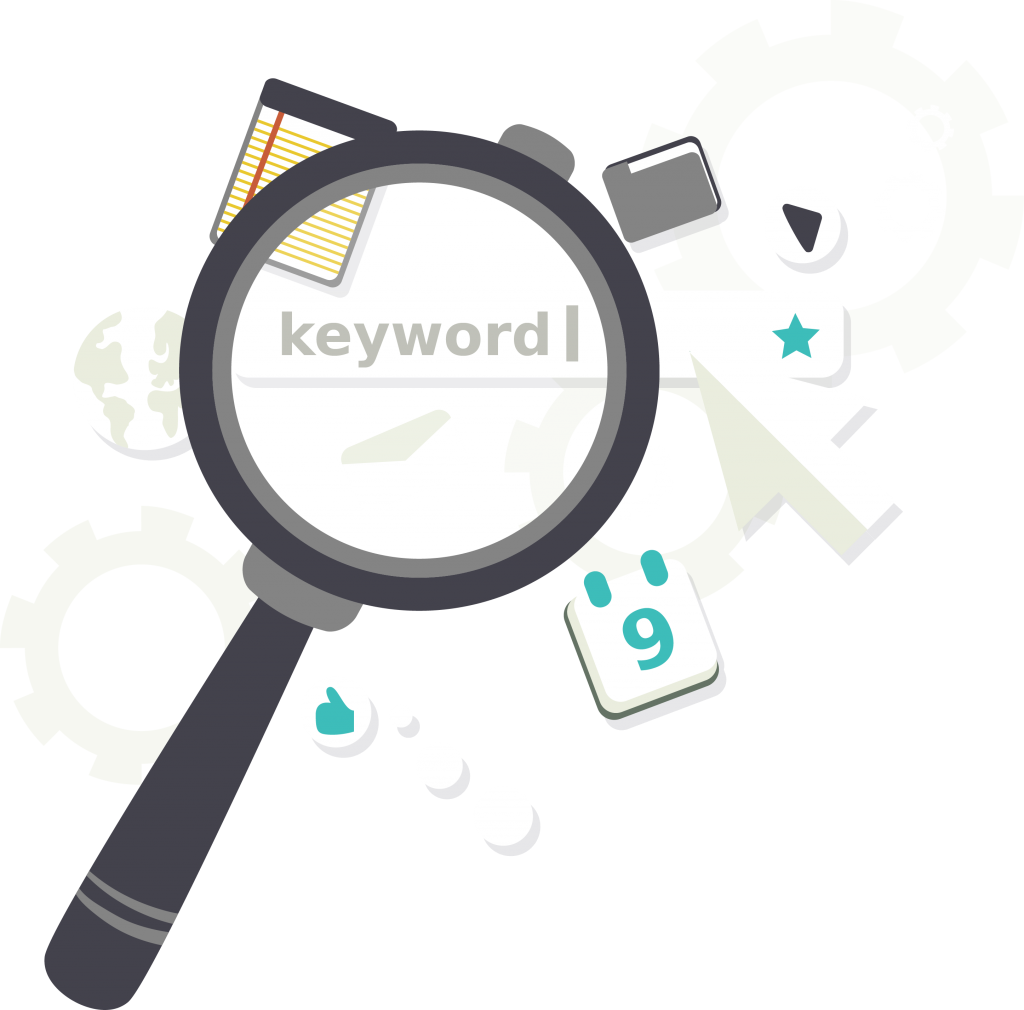 Understanding Keywords
First, you must understand the purpose you want the users to search for reaching your website. The best way to start is for you to choose the right keywords by doing keyword research specifically for SEO. For example, good commercial keywords are "Discount", "coupon" or "buy now". Keywords such as "How to", "The best way to" and "I want to" are good for educating your audience.
But how can you find the best keywords for your website and your specific content. How can you discover these keywords and use them so that they put your business on the first page of search engines?
Keywords planner: A keyword planner helps you to understand how to access the data you need to test keywords and narrow down your research field to boost your competitive advantage.
Google Trends: A good start. Helps you to find out the best keywords for your business or industry in different categories such as business, tech, entertainment, sports, health and many more.
Do your own Keywords Tests: Use Ads. Using Advertising for your page, you are always on top. Pay per click Advertising and let them do all the work. With this action you can find what browsers see when they type in your long-tail keywords.
SEMrush Keyword Research Tool: Resources like SEMrush give you valuable insight to help you optimize your website with traffic-generating keywords.
The mistakes you may do
As you read above, quality keyword research seo and good looking website can help your business to be at the first page of a search engine. When a browser is looking for something that you can provide, you must have the best keywords, so your website appears first. At first you will make mistakes. That's how you will learn what works for you. Conducting keyword research and implementing it into your SEO strategy is all about trial and error. Let's see the most common mistakes of these situation.
Stop answering questions that you think people are asking. Start think about a web user and what a web user searching for. Nobody has all the answers before doing research to find them and even if you know them, you can't even know all the questions. A smarter way to find well-targeted keywords is to find a tool to help you do it and focus on the correct keyword. Keywords tools are the best helper.
You've got Keywords Tunnel Vision
You've pulled your keywords data from a single source
You're not answering the question at all
Choose the right keywords by:
Thinking like a customer
Research your competition. Scroll through their website and point out their most used phrases or words. What did you search that made them pop up first into your search engine ? USE THAT
Understand the long tail keywords
Research tools. Use them
Analyze all the results
Where to use keywords:
1. Page Titles & Subheadings
Optimizing page titles is part of technical SEO, and is a good starting point when using keywords for SEO. It gives the reader the perfect idea of whether your content is relevant.
Subheadings work in the same way. They help visitors decide about the relevance of content to their needs.
2. Meta Descriptions
Just as important for the use of keywords for SEO is the meta description. This shows up as the second part of a search results entry.
3. Images
It might not make sense to some but Images are indexed too. This creates another way that people find your content. Images can help you handle content accessibility, which is very useful.
4. Content
The most important area for keywords? Your content area. That's because content is one of the top SEO ranking factors. Make sure you add a relevant keyword in each paragraph, to give yourself more chances of reaching the top.
5. URLs
Dont forget to make your URLs descriptive by using your most relevant kerywords. The best URLs give visitors and most importantly Google an idea of what your about.
Let us Help you boost your website with good Hosting and the best results on SEO
Here at HostingB2B we can guarantee to provide you with all of the above. Choosing a good Web Hosting Provider also means good SEO. Make sure you go through what quality aspects they provide when choosing a web hosting provider for SEO.
Fast – Secure – Reliable Private Servers in Cyprus | Malta | UK .
Guaranteed 99.993% Uptime.
24/7 Support from industry experts.
Why Hostingb2b Solutions ? Contact us TODAY to find out!
Here are some of the other services we provide here At HostingB2B:
Recommended Posts
October 26, 2023